May 1. Rana Irfan Aslam, a 51-year-old shopkeeper from Dundee, was sentenced to one year in prison for grooming a 12-year-old girl for sex during an 18-month period 20 years ago. The judge said it was the maximum possible sentence for the crime as Aslam did not engage in sexual intercourse with the girl. The court heard that Aslam gave the girl gifts of money, perfume and alcohol before sexually abusing her at various locations in Dundee, Angus, Perth and Kinross and Fife between August 1998 and August 2000. In a blog post, Natasha Phillips, an expert on family law, explained that nuances in sentencing guidelines for non-recent abuse are resulting in unduly lenient sentences: "There are very real concerns about the way offenders of non-recent abuse continue to be sentenced and which bolster the view that unmerited leniency has managed to find its way into the system."
May 1. Lewis Ludlow, a 26-year-old convert to Islam from Rochester, was charged with planning "a large scale multiple casualty vehicle-borne attack" on tourist hotspots in London. He was also charged with trying to join the Islamic State, in the Philippines.
May 1. Karen Sunderland, a Tory candidate for Town Council in Lewisham, London, was suspended after comparing Islam to Nazism on social media. Her offending tweet read: "Love your optimism. The thing is, religion undermines the hard fought for values and tolerances of progressed countries...suppresses free speech and is auto immune from criticism. This is toxic and where the hostility comes from. Religion is totalitarian. Islam has become the new Nazism."
May 2. Jamie Janson, a 42-year-old British aristocrat who travelled to Syria to fight against the Islamic State, was arrested when he arrived back in Britain on a bus from France. Janson volunteered with the Kurdish People's Protection Units (YPG) and fought against the Islamic State in Syria. Pro-Kurdish campaigners were angered by the arrest, which came after two other Britons were charged for fighting with the YPG. Mark Campbell, of the Kurdistan Solidarity Campaign, accused the British government of weakening the fight against ISIS and other jihadi groups: "Theresa May should spend more time opposing Turkey's aggression against the best fighters against ISIS, the Kurds, and less time attempting to criminalize UK anti-ISIS volunteers on behalf of the Turkish regime."
May 2. Mohammed Zahir Khan, a 40-year-old shopkeeper from Sunderland, was sentenced to four-and-a-half years in prison for encouraging terrorism, disseminating a terror publication and stirring up religious hatred. Newcastle Crown Court heard how Khan, who is originally from Birmingham, shared messages on social media in which he said Shia Muslims should be burnt alive. He also posted on Facebook a statement about martyrs and an image of the Islamic State's flag.
May 2. The Women's Wellbeing Clinic at Cardiff Royal Infirmary became the first clinic in Wales to provide medical and psychological help to victims of female genital mutilation (FGM). An estimated 2,000 women and girls in Wales are living with FGM. According to the BBC, one case of FGM was discovered on average every three days by maternity staff in Wales in 2016.
May 4. The Independent Press Standards Organization, the independent regulator for the newspaper and magazine industry in Britain, ordered the Daily Star, a tabloid newspaper, to publish a correction for an article that wrongly claimed that a "hijab row" would force all McDonald's restaurants in the London borough of Islington to close. The Muslim Council of Britain, a Muslim umbrella group, complained that the article's headline was misleading.
May 6. Melanie Phillips, a conservative columnist, ignited a firestorm of criticism after she said on BBC TV's Sunday Politics that there is no equivalence between anti-Semitism and Islamophobia:
"Anti-Semitism is not just a form of racism, it is a unique derangement that is based entirely on lies and demonization. The same cannot be said of what is considered Islamophobia. The term Islamophobia itself is used to cover-up legitimate criticism of Muslims or the Islamic community."
May 9. The International Glaucoma Association (IGA) warned Muslim glaucoma patients not to stop taking eye drop medication during Ramadan because stopping drops even for a short period of time can cause permanent loss of vision. Some Muslims have stopped using their eye drops during Ramadan, believing that using them will break their fast. IGA Development Manager Subhash Suthar said:
"We want to reassure the Muslim community that drops can be taken before dawn and after sunset (known as Suhoor and Iftar), when food and drink can be consumed. We also suggest that patients close the tear duct when taking eye drops (known as punctual occlusion) as this means that fluid stays in the eye and does not drain into the throat and so cannot be tasted."
May 9. The Sentencing Council, an independent body responsible for developing sentencing guidelines for courts to use when passing a sentence, published changes for public order offenses, which include stirring up hatred against people on the grounds of race, religion or sexual orientation. If approved, judges would be able to increase punishments for offenders who are "in a position of trust, authority or influence and abuse their position to stir up hatred." The Independent reported that having a high number of followers on social media, such as Twitter or Facebook, could be among the factors considered when making sentencing decisions. The Telegraph noted that the changes would give courts more power when sentencing Islamic hate preachers. The changes, however, could also be used to silence outspoken critics of Islam.
May 9. The Sunday Telegraph paid "substantial damages" to Mohammed Kozbar, the general secretary of Finsbury Park mosque, after it falsely portrayed him as a supporter of violent lslamist extremism, according to the Guardian. Finsbury Park mosque was once run by the radical preacher Abu Hamza before it was shut down in 2003. Kozbar said he has since worked to rebuild the mosque's reputation and sued the Telegraph in order to take a stand against "Islamophobic media coverage." The Telegraph removed the article from its website, published a ruling accepting that the article was defamatory, and paid damages of around £30,000 (€34,000; $40,000) to settle the case.
May 10. The trial began of Safaa Boular, an 18-year-old would-be jihadi from London, who is accused of plotting a gun and grenade attack at the British Museum after her attempts to become a jihadi bride were thwarted. Jurors at the Central Criminal Court of England and Wales, commonly referred to as the Old Bailey, heard how Boular decided to become a "martyr" after her Islamic State fighter fiancé was killed in Syria. Boular pled not guilty to two counts of preparing acts of terrorism. Her older sister, Rizlaine Boular, 22, her mother Mina Dich, 44, and their family friend Khawla Barghouthi, 21, have already pled guilty to terrorism charges, in what has been called Britain's first all-female jihadist plot. They will be sentenced later this year.
May 10. The Forced Marriage Unit (FMU), a specialized agency of the Home Office, reported 1,196 cases of potential or actual forced marriages in Britain in 2017. The victims in around 80% of cases were female; 256 of the victims were male. Where the age was known, 15.6% of cases involved victims below 16 years of age, and 29.7% involved under-18 year olds. The largest proportion of cases (17.9%) involved victims between the ages of 18 and 21. In 2017, children residing in Britain were sent to 65 different countries to undergo forced marriages. The top four countries with the highest number of cases in 2017 were: Pakistan, 439 cases (36.7%); Bangladesh, 129 cases (10.8%); Somalia, 91 cases (7.6%); and India, 82 cases (6.9%). In 2017, 120 (10%) of the cases had no overseas element, with the potential or actual forced marriage taking place entirely within the UK.
May 10. Yousef Abdul Latif Jameel, a businessman and philanthropist, donated £850,000 (€911,000; $1,075,000) to support scholarships at Cardiff University's Centre for the Study of Islam. The center, part of the University's School of History, Archaeology and Religion, was established in 2005 for research and teaching about Islam and Muslims in Britain.
May 21. Quilliam, a London-based counter-extremism group, in a new report — "FGM Legislation in Britain: A National Scandal" — noted that Britain has failed to bring a single perpetrator of FGM to justice, even though the practice has been outlawed there since in 1985. "The fact that we've been collecting detailed FGM data for some years now and still haven't seen a single case brought to justice is a shame and utter disservice to the thousands of young girls and women who have undergone this horrific practice," the report said.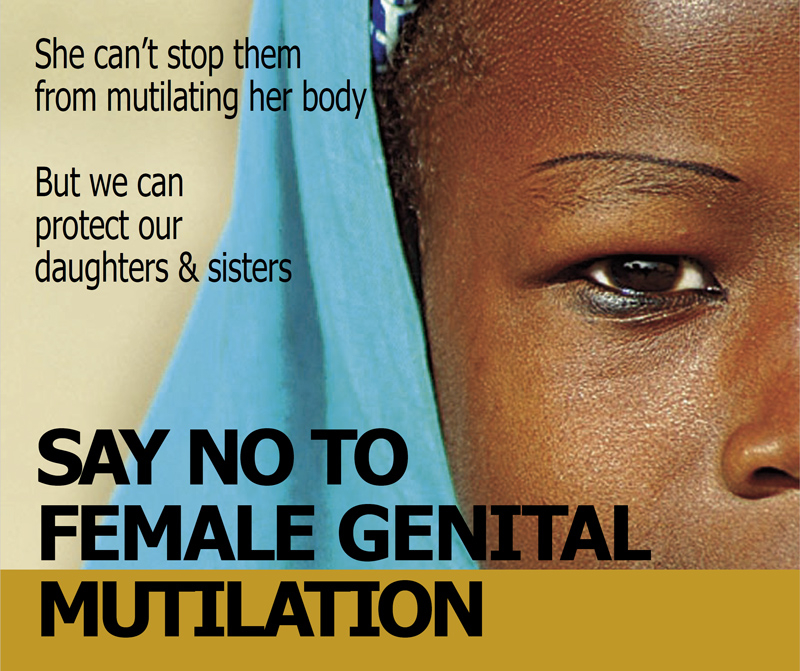 A new report notes that Britain has failed to bring a single perpetrator of Female Genital Mutilation (FGM) to justice, even though the practice has been outlawed there since 1985. Pictured: Part of an anti-FGM poster produced in the UK by the Metropolitan Police, in conjunction with community organizations.
May 22. Religious advisers at the Masjid Ramadan mosque in Dalston, east London, said that bitcoin, the cryptocurrency, is halal (permissible according to Islamic law) for donations if it is "transacted in a lawful manner." The mosque, also known as Shacklewell Lane Mosque, will accept donations in two different cryptocurrencies, Bitcoin and Ethereum. Zayd al Khair, a religious adviser at the mosque, said: "Any money or currency is neither halal, permissible, nor haram, impermissible. Guidance is about the value which it represents. If money is transacted in a lawful manner then it is halal. We do not always know the source of cash donations, but we take these in good faith too."
May 22. Farooq Rashid, 43, of Bradford, was sentenced to two years in prison for possessing and sharing jihad-related material online. "Terrorist groups such as Daesh [ISIS] rely heavily on their propaganda being shared online to encourage support, radicalize, and provoke individuals to carry out attacks abroad and in the UK," said Martin Snowden, the head of Counter Terrorism Policing in North East England.
May 23. A mother who forced her daughter to marry a relative almost twice her age was sentenced to four-and-a-half years in prison. It was the first time a forced marriage case was successfully prosecuted in an English court. Forced marriage has been a punishable offense in Britain since 2014. Birmingham Crown Court heard how the woman duped the then 17-year-old into travelling to Pakistan to wed the man, who was 16 years her senior. Years before the ceremony, the girl was entered into a "marriage contract" with the man and became pregnant aged 13.
May 23. The Daily Mail reported that Amazon, the online retailer, was selling terrorist recruitment material and bomb-making manuals: "Many of the books, which have radicalized thousands of international terrorists, are available for next-day delivery. Some can be downloaded instantly as Kindle editions anywhere in the world. The inflammatory titles are sold by third parties using Amazon's platform, allowing them global reach and lending them an aura of legitimacy." Labour MP John Mann said: "This is Amazon giving assistance to terrorists and putting lives at risk. We've just had the anniversary of the Manchester bombing. They need to be held to account. Amazon is allowing terror material to circulate. Free speech arguments don't apply when it comes to terrorists trying to recruit. There must be a full police investigation into Amazon."
May 24. Baroness Cox and other members of the House of Lords called on the British government to "respond urgently" to a 2015 review on Sharia courts by drafting a law to protect vulnerable Muslim women. Lord Elton said that the problem of Sharia councils "seems to me bigger and more urgent than Her Majesty's Government are giving it credit for." Baroness Flather accused Whitehall of not taking the issue seriously. Baroness Cox asked whether the government "will make it a priority to respond urgently with appropriate legislation." In April 2015, Baroness Cox authored a 40-page report — "A Parallel World: Confronting the Abuse of Many Muslim Women in Britain Today" — which documented how Muslim women across Britain are being systematically oppressed, abused and discriminated against by Sharia law courts, which treat women as second-class citizens. The report warned against the spiraling proliferation of Islamic tribunals in the United Kingdom.
May 25. Tommy Robinson, a 35-year-old anti-Islam activist, was arrested and jailed for contempt of court after livestreaming footage of participants in a criminal trial outside Leeds Crown Court. The trial involved members of a Muslim pedophile gang charged with sexually exploiting young girls. Outrage ensued after Judge Geoffrey Marson ordered a media blackout on Robinson's arrest and incarceration.
May 29. A Pew Research Study found that 73% of Britons identify as being Christian, but only 18% attend church. In the UK, 45% of church-attending Christians say Islam is fundamentally incompatible with British values and culture, as do roughly the same share of non-practicing Christians (47%). Among religiously unaffiliated adults, 30% say Islam is fundamentally incompatible with their country's values. The poll found that 69% of those who identify as Christian were in favor of reducing the levels of immigration, compared to 32% of non-affiliated adults.
May 29. A couple was convicted of forced marriage for luring their 19-year-old daughter to Bangladesh in an attempt to force her to marry her first cousin — so that he could obtain a British visa. Leeds Crown Court heard how the girl's parents had told her they were going on a six-week holiday to Bangladesh to visit relatives. Just days after arriving, however, she was told by her father that he had found a husband for her. The victim, who was not named for legal reasons, told the court: "He said, 'I have planned this for years, the guy is really suitable, I've given him money for university, and he's a really attractive guy for round here.' He was trying to get me to say yes, but at no point did I say yes. I thought it was disgusting because it was my first cousin and stood my ground." She was rescued by British authorities before the marriage took place. The judge told the two defendants that they should expect an "immediate imprisonment" when they are sentenced on June 18.
May 29. The trial began of Anthony Small, a 36-year-old former boxing champion who converted to Islam in 2007, for terrorism offenses. Prosecutor Karen Robinson told the Old Bailey that Small "implored Muslims to take violent action against the West." On his YouTube channel, Small described himself as "a former professional champion boxer who now works to take mankind out of the oppression of democracy and liberating themselves with Islam/Sharia." In the video, he spoke out against McDonald's and Coca Cola and other symbols of Western culture. He said the choice was to "either accept the flame-grilled burger or we are going to flame grill you from the sky."
May 30. The Muslim Council of Britain (MCB) called on the Conservative Party to conduct an inquiry into allegations of Islamophobia within the party. At least five Tory candidates have been suspended in recent weeks for making so-called Islamophobic comments. On April 17, for example, Alexander van Terheyden, a council candidate in Hackney, was suspended after, on social media, he called Islam, a "violent political ideology" comparable to fascism and communism. In response to allegations of Islamophobia, Van Terheyden said: "I've stated Islam is a violent political ideology. Note the word 'political' and not religious. Note I do not refer to Muslims, I refer to the political ideology. My views have always been public. If you mean the fact that I'm happy to voice my discontent for communism, fascism, Islam and other extreme political ideologies there is no secret to this." In December 2015, a government report found that the MCB is "secretly linked" to the Muslim Brotherhood, an Islamic fundamentalist group committed to a "civilizational jihad" aimed at undermining liberal democracies in the West.
May 31. Khurram Javed, 35, of Rotherham was sentenced to two years in prison for sexually assaulting a 16-year-old girl. The trial was part of the National Crime Agency's Operation Stovewood, which is investigating child sexual exploitation and abuse in Rotherham between 1997 and 2013.
May 31. Husnain Rashid, 32, of Lancashire, pled guilty at Woolwich Crown Court to three terrorism offenses, including one in which he called for an attack against Prince George, son of the Duke and Duchess of Cambridge and third in line to the throne. Rashid will be sentenced on June 28 for the offenses spanning from October 2016 to April 2018.
May 31. Mohammed Aslam Rabani, a 61-year-old twice-married former imam at a mosque in Nottingham, was sentenced to five years in prison for sexually assaulting a teenage boy in the mosque's attic. Rabani repeatedly assaulted the boy between June 1990 and June 1993, when the victim was 12 years old. The victim, who is now married and a father, said: "He was a father figure to me and everyone. Not even my own family would believe what he was doing to me. I was scared, because beatings at home and at the mosque were commonplace in our community. Children just did as they were told and adults were always right. As a result, I didn't speak out. Additionally, I thought it was normal, because I also believed that Rabani should be trusted. I assumed that because he was the imam, that whatever he did was right and that he was closest to God."