A court in Bavaria, the largest state in Germany, has reaffirmed that it is lawful for the government to spy on citizens who are opposed to the construction of a controversial mega-mosque in Munich.
The ruling effectively quashes a lawsuit filed by anti-mosque activists who argue that state surveillance is an intimidation tactic aimed at silencing public opposition to the mosque.
The ruling comes just days after another court in Bavaria ordered a leading anti-mosque campaigner to pay a hefty fine for "defaming" Islam after he repeatedly warned that Islam is incompatible with democracy.
Meanwhile, Munich city officials have announced that a public referendum on the mosque—now known as the Munich Forum for Islam—will not be allowed to take place, even though anti-mosque activists have gathered twice the number of signatures needed to allow local citizens to determine if the mosque should be built.
Anti-mosque activists say the recent actions show that the enforcers of multiculturalism in Bavaria have determined that the mosque project will proceed, even if it requires bypassing the democratic process, and that public opposition to the project will be silenced, even it if entails trampling on the constitutional right to free speech.
On October 18, the Munich-based Administrative Court of Bavaria (Verwaltungsgericht) ruled that it is lawful for the Bavarian branch of Germany's domestic intelligence agency, the Bundesamt für Verfassungsschutz (BfV), to continue spying on anti-mosque activists.
The spying was first revealed in April 2013, when Bavarian Interior Minister Joachim Herrmann said that anti-mosque activists were engaging in potentially anti-constitutional activities.
Herrmann singled out a populist party called Freedom Bavaria (Die Freiheit Bayern), as well as the Munich branch of a highly popular free speech blog known as Politically Incorrect [PI], which focuses on topics related to immigration, multiculturalism and Islam in Germany.
Both groups have been drawing public attention to plans to build the 6,000 m² (65,000 ft²) mosque, which they argue will become a strategic platform for spreading Islam throughout Germany and the rest of Europe.
Speculation is rife that the 40-million-euro ($51 million) mosque will be financed by the oil-rich Persian Gulf emirate of Qatar, which is building Wahhabi mega-mosques at a breakneck pace across Europe.
According to Herrmann, members of Freedom Bavaria and PI (roughly analogous to American Tea Party activists) are "right-wing extremists, who, under the guise of civil involvement, are increasingly establishing citizen's initiatives to attract the attention of German voters." In this way, Herrmann claims, they are "using the discussion about the construction of mosques, for example, to arouse, in an anti-constitutional way, prejudices against Muslims and Islam."
Herrmann told the court that the BfV serves as an "early warning system" by tracking potential threats to the constitutional order. He accused the leader of Freedom Bavaria, Michael Stürzenberger, of engaging in potentially anti-constitutional activities by repeatedly referring to Islam as a "fascist political religious system." By failing to make a clear distinction between Islam and Islamism, Herrmann argued, Stürzenberger was guilty of trampling on the constitutional rights of Muslims.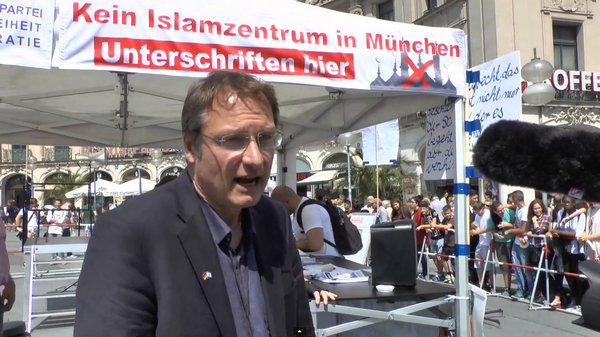 Michael Stürzenberger, leader of Freedom Bavaria, at an anti-mega-mosque event in Munich.
Defending himself against the accusations, Stürzenberger told the court that he has said nothing against individual Muslims and thus he cannot be guilty of acting in an anti-constitutional manner. On the other hand, he argued, Islam and Islamism are two sides of the same coin, and therefore Islam poses an inherent threat to German democracy.
In its verdict, the court ruled that the government may continue monitoring the anti-mosque activists. However, the court also ordered the BfV to redact certain paragraphs from its 2013 annual report, in which Freedom Bavaria was accused of engaging in anti-constitutional activities.
The court said the annual report presented the accusations against Freedom Bavaria as facts when in reality they are merely speculations because the group has never been found of actually violating the constitution.
In a separate but related case, the District Court of Munich (Landgericht München) on October 7 ruled that Stürzenberger was guilty of offending Islam in a blog post and ordered him to pay a fine of 2,500 euros ($3,200).
The case dates back to early 2013, when Stürzenberger wrote a post for the PI blog in which he addressed the topic of verses in the Koran that encourage violence against non-Muslims. The article documented the experiences of Christians and members of other religious groups that have been persecuted by Muslims.
Stürzenberger included a quote from an Iranian exile whose brother was publicly lynched for converting to Christianity. "Islam is going to destroy Germany just as it has destroyed Persia," the Iranian warned.
Concluding his blog post, Stürzenberger wrote: "Islam is like a cancer, which decomposes the (still) free peoples of this planet and gradually infects them with the poison of this extremely dangerous, intolerant, misogynistic, violent and power-hungry ideology."
The Munich public prosecutor, Judith Henkel, told the court that Stürzenberger was guilty of insulting and belittling Muslims and Islam, and that it would disturb the public peace. According to Article 166 of the Penal Code, she said, Stürzenberger was guilty of a criminal offense punishable by a substantial fine or imprisonment of up to three years.
Stürzenberger defended himself by arguing that the blog post referred to the ideology behind Islam, and that his words were not directed at Muslims as individuals. He added that he has a duty to warn fellow citizens about the danger of the rise of Islam in Germany. He said that women's rights, democracy and peaceful coexistence are being threatened by the spread of Islamic Sharia law in Germany.
In its verdict, the court ruled that by comparing Islam with a cancer, Stürzenberger was guilty of "insulting" and "defaming" Islam and ordered him to pay a fine of 50 daily rates of 50 euros. Stürzenberger said he would appeal the ruling.
Meanwhile, the Munich City Council on October 1 announced that a public referendum on the mosque will not be allowed to proceed, even though Freedom Bavaria has collected more than 65,000 signatures, twice the 30,000 needed to force a vote.
City officials accused Stürzenberger of deceiving the public by falsely saying that the Macedonian imam behind the mosque project, Benjamin Idriz, was being monitored by German intelligence due to his links to radical Islamic elements.
In fact, Bavarian intelligence, in its annual reports from 2007 to 2010, revealed that a mosque led by Idriz, the Islamic Community Penzberg (now renamed Islamic Forum Penzberg), was being monitored due to its contacts with Islamist groups.
Moreover, a December 2007 diplomatic cable from the American consulate in Munich revealed that the former Bavarian State Secretary, Georg Schmid, had warned about an internal concept paper for the mosque that proposed a more fundamentalist goal than the one announced publicly. The paper reportedly referred to the need for children to be educated in "pure Islam," and also criticized the way European Muslims were being "to a certain extent compelled" to co-exist with a non-Muslim majority in society.
The cable also shows that then Bavarian interior minister, Günther Beckstein, confided to American diplomats that "Idriz plays two different pianos." He was referring to Idriz's practice of portraying himself as a moderate to some audiences and as a radical to others.
Munich city officials also accuse Stürzenberger of falsely claiming that the new mosque would be a center for Muslims throughout Europe.
In fact, for many years the mosque was called the Center for Islam in Europe-Munich (ZIE-M). But in late 2013, it was given a new name, the Munich Forum for Islam, apparently in an effort to dispel growing public unease about the mosque's broader ambitions.
Munich Mayor Dieter Reiter, from Germany's center-left Social Democratic Party (SPD), said that if the public referendum were permitted to proceed, it would give Stürzenberger's anti-mosque campaign "a democratic veneer, which we want to avoid."
The Munich Forum for Islam advised those who signed the referendum petition to accept the city's decision because municipal officials know best:
"To all those Munich citizens who supported the referendum with their signatures, we would like to encourage you to familiarize yourself with the City Council resolution and its extensive legal justification. Then you will realize that the referendum is not a legitimate right conferred by a democratic institution, and that by stopping the vote from going ahead, the City Council is preventing your opinion from being abused by the anti-democratic goals of extremists."
Stürzenberger says the Munich city council's efforts to silence dissent are similar to the tactics used by the former Communist dictatorship in East Germany. He has vowed to fight the city council in court.