Parts of downtown Hamburg, the second-largest city in Germany, resembled a war zone after hundreds of supporters of the jihadist group Islamic State [IS] engaged in bloody street clashes with ethnic Kurds.
The violence—which police say was as ferocious as anything seen in Germany in recent memory—is fuelling a sense of foreboding about the spillover effects of the fighting in Syria and Iraq.
Some analysts believe that rival Muslim groups in Germany are deliberately exploiting the ethnic and religious tensions in the Middle East to stir up trouble on the streets of Europe.
The unrest began on the evening of October 7, when around 400 Kurds gathered outside the Al-Nour mosque near the central train station in Hamburg's St. George district to protest against IS attacks on the Syrian Kurdish town of Kobani.
According to police, the initially peaceful protest turned violent when the Kurds were confronted by a rival group of around 400 Salafists armed with baseball bats, brass knuckles, knives, machetes and metal rods used to hold meat in kebab restaurants.
In the melee that followed, more than a dozen people were injured, including one person who nearly had his leg chopped off by someone wielding a machete, and another person who was stabbed in the stomach with a kebab rod.
Some 1,300 police officers, brandishing batons and accompanied by water cannons, were deployed to halt the clashes, which lasted into the early morning hours of October 8. In the final tally, hundreds of weapons were seized and 22 people were arrested.
"I had the feeling that we are living in Hamburgistan," the imam of the Al-Nour mosque, Daniel Abdin, told the German newsmagazine Der Spiegel. "The atmosphere was very, very explosive."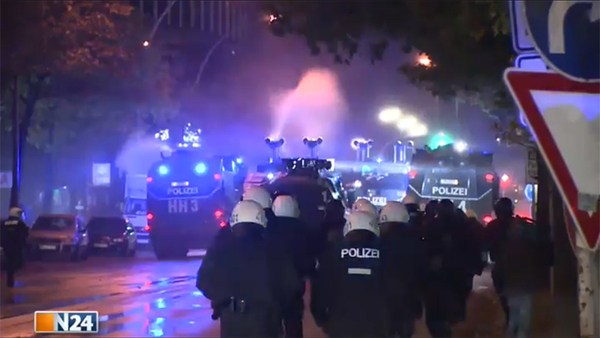 German police in riot gear, accompanied by armored vehicles and water cannons, charge into a street battle between Kurds and radical Islamists in Hamburg, Oct. 8, 2014. (Image source: N24 video screenshot)
Police said they were shocked by what they described as an unprecedented level of violence.
In an interview with the newspaper Passau Neue Presse, the chairman of the German Police Union, Rainer Wendt, reported that police in Hamburg "experienced life-threatening brute force" by perpetrators who were armed "to the teeth." Wendt warned that the IS-Kurdish conflict is "threatening to unleash a proxy war on German soil."
A police official in Hamburg, Gerhard Kirsch, said the level of the violence points to a new "dangerous dimension" that "we have so far not seen at other demonstrations."
The chairman of the German Police Union in Hamburg, Joachim Lenders, described the viciousness as unprecedented. "The violence in the early hours of Wednesday was of a ruthless and inhuman brutality as I have rarely experienced," he said, adding that without the timely deployment of the police there would almost certainly have been fatalities. Lenders added:
"If in the middle of Hamburg 800 hostile people are fighting each other with machetes, knives and iron rods, there must be consequences for the perpetrators. Politically motivated extremists and religious fanatics have brought a conflict to Hamburg that cannot be solved here."
On the same day of the unrest in Hamburg, dozens of mostly Chechen Muslim immigrants clashed with Kurdish Yazidis—a non-Arab and non-Muslim minority that has been persecuted by IS—in Celle, a town in Lower Saxony that is home to more than 7,000 Yazidis. Police said the violence, in which nine people were injured, was fuelled via social media after radical Muslim preachers sent out a call to Islamists to confront the Yazidis.
The conflict in Celle was reminiscent of—but far more violent than—the Muslim-Yazidi clashes that occurred in the eastern Westphalian town of Herford in August.
"Solidarity with Kobani" demonstrations have also taken place in Munich—where protestors waving large Kurdish flags occupied the offices of the Christian Social Union [CSU], the Bavaria-based sister party to Germany's ruling Christian Democratic Union party [CDU]—as well as in the western German cities of Berlin, Bremen, Göttingen, Hamm, Hannover, Kiel, Oldenburg and Stuttgart.
Germany is home to an estimated 4.3 million Muslims, one million Kurds and 60,000 Yazidis. According to the 2013 annual report (published in June 2014) of the German domestic intelligence agency, the Bundesamt für Verfassungsschutz [BfV], Germany is also home to 30 active Islamist groups and 43,000 Islamists, including 950 members of the Lebanese terrorist group Hezbollah, 1,300 members of the Muslim Brotherhood and 5,500 Salafists.
Salafism is a radically anti-Western ideology that openly seeks to replace democracy in Germany (and in other parts of the West) with an Islamic government based on Sharia law.
Although Salafists make up only a fraction of the Muslims in Germany, authorities are increasingly concerned that many of those attracted to Salafi ideology are impressionable young Muslims who are susceptible to perpetrating terrorist acts in the name of Islam.
German authorities have faced criticism for being overly complacent concerning the rise of Salafism in the country. On October 2, for example, the German public broadcaster ARD revealed that German officials have for many years pursued a secret policy of encouraging German Islamists to travel abroad rather than to invest in counter-radicalization efforts. According to ARD, the general idea was that if German jihadists were intent on committing terrorist acts, it would be better that they do so somewhere else than inside Germany.
The overall aim was to "protect our population" by exporting the problem, the head of counter-terrorism for Bavarian Police, Ludwig Schierghofer, told ARD. The reasoning was "to bring those persons who pose a risk that they will commit terrorist attacks outside of the country," he said. "If someone had become radicalized and wanted to leave, then the policy was to allow them to leave or even accelerate their departure by various means."
An estimated 450 German Muslims have traveled to Syria and Iraq, and at least 100 are now believed to have returned to Germany.
Meanwhile, a growing number of German politicians are receiving death threats from German Salafists.
One such politician, Tobias Huch of the (classical liberal) Free Democratic Party [FDP], has been repeatedly threatened with beheading as the price to pay for leading a fundraising campaign to provide food and water for Kurds in northern Iraq.
"I am not afraid, but I have become more careful," says Huch, who now receives police protection. He says he has altered his daily comings and goings in order to be less predictable. Among other lifestyle changes, he has cut out regular visits to restaurants, pubs and other public venues.
Another politician, Ismail Tipi of the ruling CDU, is paying the price for criticizing the rise of Salafism in Germany. "I receive threats almost every day," Tipi says. "The death threats against me have no limits. The Salafists want to behead me, shoot me, stone me, execute me and they have many other death wishes for me."
According to CDU official Wolfgang Bosbach, politicians who receive death threats should not allow themselves to be intimidated. "Under no circumstances should they give in and change their stance, otherwise the extremists will have achieved their objectives."
The head of the FDP, Christian Lindner agrees. "It is unacceptable for Liberals to allow religious extremists to take an ax to the central values of our constitution. We will not give in to threats and intimidation, rather we will demand the determined reaction of the rule of law."
By contrast, the Vice President of the German Parliament, Claudia Roth of the Green Party, believes the growing radicalization of Muslims in Germany points to problems in German society. In an interview with the newspaper Die Welt, Roth said:
"The violent clashes between Kurdish and Islamist groups in German cities and on German streets refer more to internal German problems than the situation in northern Syria and northern Iraq.

"As a society we must ask ourselves: how can it be that people who live in Germany and in large part are born and raised here, are supporters of a brutal, inhuman and fundamentalist terror group such as the IS and attack peaceful protestors with knives, sticks and machetes. Here in Germany, the IS threatens to become a refuge for frustrated young people who lack future prospects."
While politicians debate causes and solutions to the problem of radical Islam, police throughout Germany remain on alert for more violence.