More than 100 Dutch Muslims travelled to Syria in 2013 with the intention of taking part in jihadist activities there, and at least 20 battle-hardened jihadists have since returned to the Netherlands, posing a significant threat to national security, according to a new report published by the Dutch intelligence agency AIVD.
The AIVD annual report for 2013 was presented by Interior Minister Ronald Plasterk and AIVD head Rob Bertholee in The Hague on April 23. In contrast to previous years, when the main security threat was deemed to be a cyber-attack, the principal concern in this year's report is the mounting threats posed by the returning jihadists, as well as by Muslim hate preachers who are using the Internet to radicalize young Dutch Muslims and incite them to violence.
The report warns that the presence of European fighters in Syria provides the jihadist groups active there with an "excellent opportunity to recruit individuals familiar with our region to commit acts of terrorism here." In addition, returnees could "exploit their status as veterans to radicalize others in the Netherlands." Overall, AIVD's primary concern is about the radicalizing influence that Dutch jihadists will exert on Muslim communities in the Netherlands.
AIVD says the age of Dutch jihadists is decreasing constantly and the number of women in this group is growing. Most of the fighters are of Moroccan descent, although some are from Bosnia, Somalia and Turkey. Many of the Dutch jihadists are second-generation immigrants who were born in the Netherlands. They mostly come from the Dutch cities of Delft, Rotterdam, Zeist and The Hague.
The vast majority of Dutch jihadists in Syria have joined one of two rebel groups, the Islamic State in Iraq and the Levant [ISIL] or Jabhat al-Nusra [JaN]. AIVD believes that at least ten individuals from the Netherlands were killed in 2013, including two Dutch jihadists who blew themselves up in suicide attacks (one in Syria and one in Iraq).
The report says that Al-Qaeda's involvement in the Syrian conflict makes the threat far more acute. AIVD warns:
"[Al-Qaeda] still has every intention of carrying out attacks in the West, and the use of fighters from Europe could make that goal easier to achieve. It is conceivable that some will return home with an order to commit or facilitate such acts. There is also a risk that these fighters will form new networks in Europe, pooling their experiences either to perpetrate attacks or to assist new recruits wishing to fight in Syria or other conflict zones."

"The presence of jihadist fighters from Europe in the ranks of groups affiliated or associated with Al-Qaeda, such as ISIL and JaN, offers it a chance to deploy battle-hardened operatives in countries like the Netherlands as well as in Syria. Most hold a European passport and have their origins in our region, making them unlikely to attract much attention once they return and so ideal to carry out or facilitate assignments on behalf of the organization."
As well as potentially posing a direct threat, returnees from Syria might also have a radicalizing and mobilizing effect upon fellow Muslims. In the Netherlands, they could "act as the catalyst pushing some young people already attracted by a radical strand of Islam into militant activism," the report says. "That could strengthen local radical groups and spread their message to a wider audience."
The report also focuses on a new, more activist form of radical Islam that has emerged across Europe over the past several years, spearheaded by groups such as Sharia4Holland, Islam4UK, Hizb ut-Tahrir, Millatu Ibrahim and others.
AIVD says these groups "provide an environment in which ideas about violence and jihad are allowed to develop; their supporters make no secret of their sympathy for Al-Qaeda and Osama bin Laden, and have become more and more open in their expression of a jihadist ideology."
"Many of the young Muslims attracted to the Syrian conflict come from one of these activist groups. As such, they have crossed the line from rhetoric to action. Effectively, the organizations have thus become actual jihadist networks with their core members fighting in Syria and, at home, a wider group of supporters engaged in ever more fervent propaganda. Social media are used to disseminate stories about 'brothers' on the front line in Al Sham (Syria) and the deaths of their 'martyrs.'"
AIVD also says that pro-jihad Muslims in the Netherlands are not the only ones who have been affected by the war in Syria.
"Throughout Europe and the Middle East, traditional Salafism has had to decide what stance to take. The proselytizing Salafist "dawah" ("call to Islam") movements active in Europe and the Muslim world are highly anti-democratic and anti-Western by nature, but in recent decades have clearly distanced themselves from international jihad of the kind propagated by Al-Qaeda, particularly against the West. On the other hand, they take a far more positive attitude towards what they regard as defensive jihad against "infidel" dictators in the Islamic world itself, against the supposed advance of Shi'ism and against Western occupation of "Muslim lands."

"In the Netherlands, both dawahists and moderate Muslim leaders have spoken out regularly against participation in the struggle in Syria. This has brought them strong rebuttals from the jihadist camp, worded in ever more hostile terms. As a result, the broad resistance to violent jihad observed by the AIVD within the Dutch Muslim community in recent years has been somewhat eroded."
The interior ministry has employed various measures to confront the jihadist threat. For example, it revoked the passports of 11 would-be jihadists in 2013 to prevent them from travelling to Syria. It also banned one jihadist of foreign origin but who lived in the Dutch city of Almere from returning to the Netherlands. If he returns, he will be tried for war crimes, the government says.
The government has prohibited returning jihadists from collecting social welfare benefits, and in some instances it has frozen their bank accounts. At least four radicalized youth are currently under the supervision of the juvenile delinquency system.
AVID has also heightened surveillance of recruitment networks. In July 2013, for example, Dutch police arrested a 19-year-old Muslim woman who goes by the name Oum Usama ("Mother of Osama") for recruiting Dutch Muslims for the war in Syria. Usama, a Dutch national of Somali origin, was arrested in Zoetermeer, a city in the western Netherlands.
The arrest came after complaints by several parents of Dutch Muslims who have traveled to Syria. It also led to protests by Muslims outside of Dutch embassies in several European countries. The website "De Ware Religie" [The True Religion] published a letter warning of potential retribution for the arrest, including the abduction of Dutch citizens in Muslim countries.
Recruitment for terrorist organizations carries a sentence of up to four years in jail or a fine of €78,000 ($106,000). Nevertheless, such cases are difficult to prove and there have been no successful prosecutions of Muslims on recruitment charges to date.
Oum Usama was freed after ten days and eventually surfaced in Syria under the name Oum Usama al Muhajirah.
Another suspected recruiter, a Dutch-Turk named Murat Ofkeli (also known as "Ibrahim the Turk," "Abu Jarrah" or "Abu Zer") from the notorious Schilderswijk district in The Hague, has been repeatedly cleared of all charges of recruiting individuals for jihad, due to a lack of evidence.
Efforts have also been made on a judicial level to criminalize so-called "jihad travel." A new law, Article 134a of the Dutch Criminal Code, makes it illegal "to furnish oneself or another intentionally the opportunity, resources or intelligence, or to try to do such, in order to commit a terrorist crime or a crime in preparation or facilitation of a terrorist crime, or to acquire knowledge or skills to this end or impart these to another."
In what has been called the first trial of its kind in Europe, the District Court of Rotterdam in October 2013 convicted two men who wanted to travel to Syria to join the jihad. But the court did not convict the men based on the new law.
The court held that Mohammed G, 24, was guilty of making preparations for murder and Omar H, 22, was found guilty of preparing arson and/or an explosion and of spreading, showing publicly ... a text and/or a picture which incites to committing a terrorist crime.
"This is the first time that the Netherlands hands down such a judgment and this helps clarify the fact that it's illegal to go to Syria to fight," a spokesperson for the prosecution, Paul van der Zanden, was reported saying. "Which means that we now have a legal precedent and can prosecute other people wanting to go to Syria or coming back."
The light sentences handed down by the court are unlikely to serve as a meaningful deterrent to future would-be jihadists. The court found that Mohammed G had recurrent psychological problems and sent him to a psychiatric hospital. Although the prosecutor had sought three years in prison for Omar H, the court sentenced him to eight months plus four months suspended sentence. Once again, critics say, the ideology of multiculturalism has trumped justice.
Some Dutch jihadists say they have no intention of returning to the Netherlands. In January 2014, the Dutch public television program Nieuwsuur broadcast an interview (YouTube video with English subtitles here) with a former Dutch soldier who said he was so angry over the West's failure to intervene in Syria that he quit the Dutch army to join the jihad to oust Syrian President Bashar al-Assad.
The man—a Dutch-Turkish dual-national named Yilmaz—says he is fighting for an Islamic state and to liberate "the oppressed Syrian people." Yilmaz (he posts his reports from the battlefield here and here) says he has no intention of returning to the Netherlands.
"I didn't come to Syria to learn how to make bombs, or this or that and to go back," he says. "That's not the mentality many of these fighters here have. We came here, basically, and I know it sounds harsh, but many of the brothers here, including myself, we came here to die. So, us going back is not part of our perspective here. I mean it's a big sacrifice and there's a lot of work to do, so why should I even think about Holland or Europe? It's a closed chapter for me."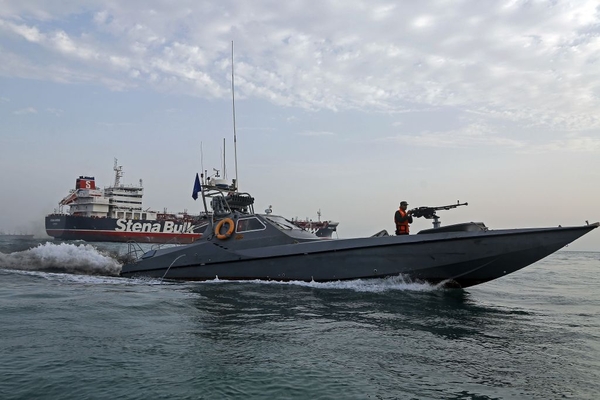 The Dutch-Turkish jihadist Yilmaz (center) poses with fellow jihadists in Syria.
Yilmaz says that even if he does eventually return to the Netherlands, the Dutch people have no reason to fear him.
"Knowing Holland, they should be worried about other things, with criminals and pedophiles roaming the streets, but I understand their fear, you know, it's not that I have a wall and I don't understand why these people are afraid. Don't worry about me. I've chosen this path for myself, and even if I would come back I would just eat... maybe some sushi, have some Dr. Pepper and give my mother a big, warm hug, sit with the family. I've never been a violent person towards people who are not violent towards me."
Yilmaz's altruism may or may not be genuine, but the fact remains that the Muslim community in the Netherlands is a fertile breeding ground for a new generation of jihadists. Young Dutch Muslims are angry, unassimilated and omnipresent in crime statistics.
Forty percent of Moroccan immigrants in the Netherlands between the ages of 12 and 24 have been arrested, fined, charged or otherwise accused of committing a crime during the past five years, according to recent research. In Dutch neighborhoods where the majority of residents are Moroccan immigrants, the youth crime rate reaches 50%.
Consider one recent incident that reveals the volatile reality facing the Netherlands. Several dozen Moroccan youths took to the streets (YouTube video here) in the Dutch town of Deurne in late March to protest the death of two Moroccan men in their 20s who were shot while trying to rob a jewelry store in the same town.
The public prosecutor's office concluded that the owners of the store shot the men in self-defense, but the Muslim protesters—who have portrayed the deceased as martyrs—disagreed. Police moved in quickly to shut down the protest before it spread to other Dutch towns and cities, but the potential for spiraling unrest was clearly real, ominous and foreboding.
In an interview with Dutch Public Radio 1, Mustapha Abbou, a former Labor Party councilor in the city of Eindhoven, said many Moroccan youths in the Netherlands have "no education, no prospects and are barely supervised. They are a ticking time bomb."