Construction crews in Copenhagen have raised Denmark's first minaret -- a 20 meter (65 foot) tower-like structure that will alter Copenhagen's low-rise skyline -- as the finishing touch on a colossal project to build the biggest mega-mosque in Scandinavia.
Construction of the minaret, which was finished on September 3, marks the final phase of work on Denmark's first-ever purpose-built mosque, situated at Rovsingsgade Street in Nørrebro, a heavily Islamized district in northwestern Copenhagen.
The so-called Grand Mosque, which will cater to Sunni Muslims, is massive by European standards. The complex covers 6,800 square meters (75,000 square feet) and will house a domed mosque, a restaurant, a cinema, classrooms, offices, a community center for the elderly, childcare facilities, a playground and more, in what is being billed as the largest "real" mosque in Scandinavia.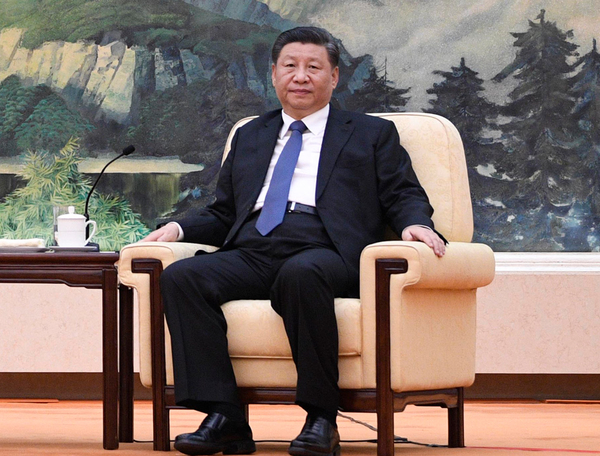 An illustration of the Grand Mosque of Copenhagen.
The mosque has only been possible thanks to a 150 million kroner ($26 million) donation by the former ruling Emir of Qatar, Hamad bin Khalifa al-Thani, which has led critics to voice concerns that the mosque will become a mouthpiece for radical Islam.
In an interview with the Copenhagen-based daily newspaper Berlingske on August 5, Copenhagen City Council member Lars Aslan Rasmussen said, "Gifts like these from Qatar are not free and I am worried that Muslims in Denmark risk becoming radicalized and pushed even further from the society that they should be a part of."
Rasmussen added that the 25,000 member Danish Islamic Council (Dansk Islamisk Råd) -- a Muslim umbrella group that is building the mosque -- belongs to the Federation of Islamic Organizations in Europe (FIOE), which has close connections to both Hamas and the Muslim Brotherhood.
"I am sure that they will end up preaching an ultra-conservative interpretation of Islam," Rasmussen said. "I am disappointed that Denmark's first big mosque will represent this interpretation of Islam. They have the right to open the mosque, but I think that their connections to the Muslim Brotherhood and Hamas are deeply problematic."
Rasmussen's concerns have been echoed by another member of the Copenhagen City Council, Flemming Steen Munch, who says, "It is clear that we must give more thought to the fact that Qatar, where Islam is practiced so rabidly, has invested so much money in a mosque in Denmark. We should be concerned about radicalization and should keep a close eye on what is going to happen in that mosque."
A spokesperson for the Danish Islamic Council, Mohamed al-Maimouni, denies that the mosque will be beholden to outside influences. "I understand Lars Aslan Rasmussen's concern," he says. "When you get such a big bag of money it follows that typically there are strings attached for teaching a particular rhetoric. But that is not the case here. The Emir has donated 150 million kroner to us and it is due to the way in which we have marketed the project in Qatar."
According to al-Maimouni, "The best way to have dialogue and to inform about the true principles of Islam is by getting a proper forum to invite Danish politicians and others to lectures and discussion meetings. In this way we can promote our moderate message of Islam. The Emir would really like this."
As a token demonstration of moderation, al-Maimouni says the minaret at the Nørrebro mosque will not -- for the time being -- be used to call the faithful to prayer five times a day. "We have not applied for permission for the call to prayer because we feel that Islam should adapt itself to the location in which it is being practiced," he says. "This would not be the case in these surroundings and it could be provocative for neighbors."
But in separate interview with the daily newspaper Politiken, al-Maimouni admits that the Nørrebro mosque project has been deliberately shrouded in obscurity. "We have been running a low profile all the way and said no to many media inquiries," he said, "at least until we had the building authorization in place."
Construction of the Nørrebro mega-mosque has, in fact, passed beneath the radar of the Danish media and has met very little resistance. This is in sharp contrast to another mega-mosque project in Copenhagen that will cater to the 80,000 Shia Muslims who now live in Denmark -- and is being financed by the Islamic Republic of Iran.
The 2,000 square meter (21,500 square foot) Imam Ali mosque (see image here) will feature a massive prayer room for 3,000 Muslim worshippers at a time, as well as an amphitheater, conference room, library and ample living accommodations for visiting imams from Iran.
The mega-mosque, which will be built in the Vibevej district in northwestern Copenhagen, will be accompanied by two 32-meter (105-foot) minarets, according to the Danish public broadcaster DR.
But the Imam Ali mosque project has faced resistance since it emerged that its main financial sponsor is the Ahlul Beit Foundation, a radical Shia Muslim proselytizing and political lobbying group run by the Iranian government. Ahlul Beit already runs around 70 Islamic centers around the world, and has, as its primary goal, promoting the religious and political views of the Islamic Republic of Iran.
Ahlul Beit is opposed to all brands of Islam that compete with the form of Islam dictated by theocrats in Iran: the organization has called for the persecution of Sunni Muslims, Sufi Muslims, and Alawites as well as all secular and moderate Muslims. The organization is also vociferously opposed to the integration of Muslim immigrants into their host countries.
Ahlul Beit is especially focused on spreading Islamic Sharia law beyond the Middle East; its centers in Africa and Asia, for example, have been used to radicalize local Muslim communities. In a typical quid pro quo arrangement, the organization offers money to the poor, who then convert to Shia Islam and are subjected to religious training by Iranian-backed Imams. The group has been banned in at least a dozen countries.
In Europe, Ahlul Beit mosques are usually presented to the general public as centers for cultural and sports activities; in practice, however, they are often used by Iranian intelligence to monitor Iranians living abroad as well as to harass Iranian dissidents.
In Germany, for example, the Imam Ali mosque in Hamburg was linked to the September 1992 assassination of four leaders of the Iranian Kurdish Democratic Party at the Mykonos restaurant in Berlin.
In Britain, the Ahlul Beit mosque in London has been involved in issuing death threats against the British-Indian writer Salman Rushdie. The mosque has also been used to recruit terrorists and to spy on Iranian exiles living in Britain.
The man who is set to become the main imam at the new mosque, Mohammed Mahdi Khademi, is a former military officer who ran the ideology department of Iran's Revolutionary Guard Corps until 2004, when he was hand-picked by the Iranian regime to move to Denmark. Many Iranian exiles believe Khademi has close ties to Iranian intelligence and fear the new mosque will be used against them.
Some members of the Iranian democracy movement say the Copenhagen mosque is about far more than just the issue of freedom of religion. They say it is about Iran's desire to establish a political-religious foothold for extremist Islam in northern Europe.
An Iranian exile, Farrokh Jafari, who recently organized a protest against the mosque, told the newspaper Berlingske that he is not opposed to having a mosque in the city, but that he wants to draw attention to Ahlul Beit's dubious intentions.
"We are protesting against Copenhagen's plans for a Grand Mosque, which is being paid for by the Iranian theocracy," Jafari said. "We fear that the mosque will not serve its religious purposes, but simply camouflage Iran's extended arms in Denmark."
Jafari added, "We are not afraid of the mosque itself. We are supporters of religious freedom, and Muslims in Denmark should naturally also have a proper mosque. But we fear that this mosque, which is being built by Ahlul Beit, will spread fear among democratic Iranians in Denmark, launder money, and help the regime's people transfer out of the country money which they have stolen from the Iranian people. This is the experience from England, South Africa and France, where Ahlul Beit is also present."
According to Jafari, "Ahlul Beit claims that the funds for the Grand Mosque come from private individuals in Iran and from collections in Denmark. We do not believe that. Ahlul Beit is controlled directly from Iran. It is idiotic to think that an association which uses enormous amounts of money to run religious centers in large parts of the world is exclusively run by private donations from a country that is under economic sanctions."
Some observers warn that the threat of Islamic extremism in Denmark is not limited to the mega-mosques that are being funded by Qatar and Iran.
During a talk at the Danish Free Press Society on August 22, Ahmed Akkari -- the man who organized the 2005 Mohammed cartoon riots and who now admits he was wrong to do so -- said: "The truth is that there is not a single mosque or Muslim organization in Denmark that is not run by Islamists. As soon as you enter the house of the believers, you are met with Islamism whether you want it or not. As soon as you become a devoted Muslim, you are infected by extremism."
In the words of Lene Kühle, a scholar at the Center for Contemporary Religion at Aarhus University who has written a book about Islam in Denmark, the race to build mega-mosques in Denmark is sending a very clear message: "There are Muslims in Denmark, and they are here to stay."